Hillside, NJ – August 29, 2018 – WizKids is thrilled to announce that Maiden's Quest, its new hand-based card game, is now available in North American game stores!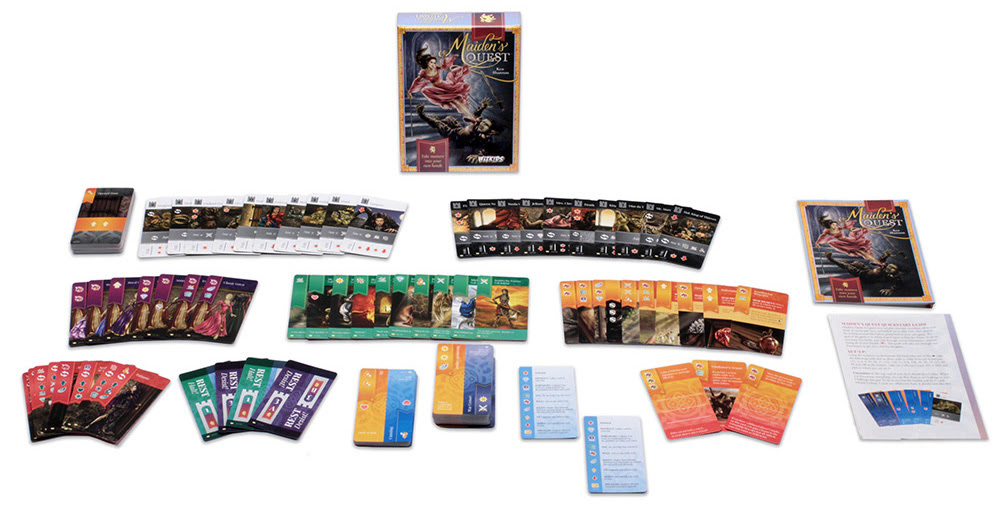 In this fun and easy game designed by Ken Shannon and a primarily female creative/playtesting team, a fair maiden, tired of waiting for her knight in shining armor, decides to take matters into her own hands and rescue herself from her tower. Players will become 1 of 8 different maidens, leading them through a tower, battling monsters and collecting supplies in order to ultimately take on and defeat 1 of 10 captors. The game features an innovative spin-and-flip mechanic which allows cards to represent up to four different obstacles or items.
Additionally, the game can be played entirely in the hand, as cards are cycled to the back of the deck throughout play. This enables players to play anytime, anywhere, and, since each encounter resolves separately, the game can be stowed away at any time to be picked up again later. The game can be played solo, co-op, or even competitively. There is a Serendipity mode where you use your deck to help someone else and as a reward for doing that, sign special cards so that when you get enough signatures, the cards gain an ability that can be added to your deck. The possibilities are endless!